What is More Funny than a Play about a Play?

May 05, 2016 04:38PM, Published by Mylinda LeGrande, Categories: Local Life
---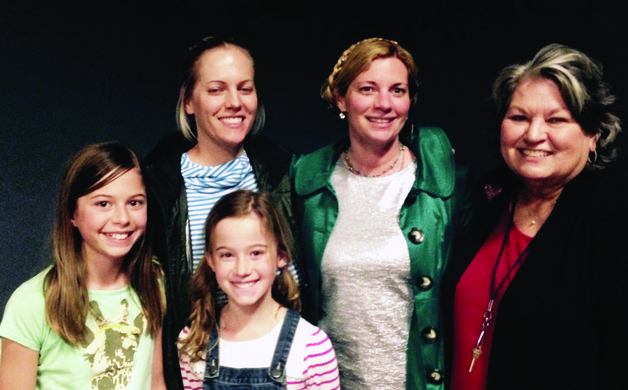 ---
By Mylinda LeGrande |   Mylinda@mycityjournals.com
West Jordan - Sugar Factory Playhouse presented "Play On!" a hilarious comedy written by Rick Abbot preformed March 17–19, 21, 24–26, and 28 at 7:30 p.m.

When a small community theater decides to put on a mystery written by a first-time local playwright, they have no idea what they're getting themselves into. As they struggle through rehearsal, dress rehearsal and their first performance, hilarity ensues as personalities collide, the script is repeatedly rewritten and everyone just tries to make it through the whole ordeal in one piece. Don't miss this peek behind the curtain of a play within a play!
"Play On" was a quick-paced comedy. Its style was one of witty banter in which it appeared that the actors knew their lines and was well-rehearsed. Character Saul Watson was played by Gordon Jones, in the community's play "Murder Most Foul" Other characters were Jennifer Bedore as Violet Imbry; Jen Crabb as Gerry Dunbar, the play's director; Bryson Dumas as Billy Carewe; Steve Hedman as Henry Benish; Celeste Porter as Phyllis Montague; Anna Sanford as Marla Smith; Meighan Smith as Aggie Manville, the stage manager; Melanie Turner as Lady Margaret; and Nathan Unck as Lou Peary, the show's sound and lighting tech.
Some of the best lines from "Play On" included, "You sound like an electrocuted teacher in 'Singing in the Rain,'" "It was a very dark night…" "Why are you wearing a bustle?" and the response "I'm not wearing a bustle!" 
"Why did you change the name?" and its response, "It looked silly next to liverwurst." The audience chuckled at regular intervals over the jokes. The cast portraying the show in which they were acting purposely clashed with each other adding to the humor. Some moments of the play were when a gun appeared on the stage during a marriage proposal, and the playwright standing at the wings of the stage recited the play word for word as the actors performed.
The director, Rosalie Richards, has loved theatrics ever since she performed shows on the stone bench in her back yard. She loves the challenge of a new show. She said that "Play On" has been like doing and redoing many of the shows Desert Star has done before and laughing most of the time. She said, "This is a fun show. All the characters in this play are like actors we have had in our show. We've laughed so much we are just sick. Half of the cast are from West Jordan. It's an adult-oriented show, but kids that come just giggle, and the rest of the audience laughs so hard during the whole thing."
Valerie Springer attended the show with her daughters Holland and Avery. She said, "This is definitely hilarious. I love all the details and personalities of all the characters. It's fun and different."
Being a more of an adult play the show included some mild profanity and suggestive material. The March 24 performance attracted an older crowd. The theater was only half-filled, probably due to the location, as the director Richards suggested. 
 "Play On" was held at the Midvale Performing Arts Center . Although the Sugar Factory Playhouse group is a West Jordan City Arts group, it is currently homeless, so members perform wherever they can secure a place.  
 "It's frustrating that we have to come here to Midvale to perform," Richards said. "We want a place to call our home. I've been doing this 22 years, and I've directed here, there, everywhere. That is the reason why we don't get a consistent audience. We are always at different places. When we had our cute little Sugar Factory Theater, people knew where it was. They knew the seasons and times we'd have plays. They saw our posters, and it was full every time.  The city supposedly gave us the [old] library, but the fire marshal and a couple of city councilman came while we were preparing for our Christmas show and said, 'You can't be thinking you will be performing here. We aren't going to let you do that. You can rehearse here only but cannot do performances.' It is because we don't have a sprinkling system, but neither does [the Midvale Performing Arts Center]. We have been promised eight or nine times to get our own [performing hall], but it just [fizzles] out. We just want a small place we can perform shows on a regular basis."  
---
---